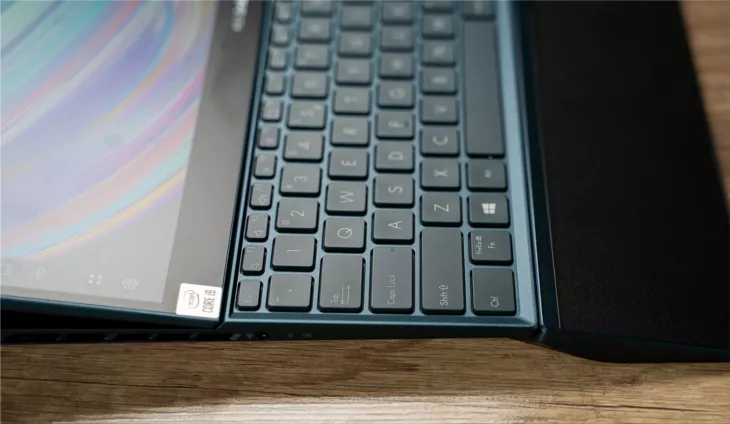 Laptops are much more than just gadgets, becoming vital tools that help you work at unprecedented levels of productivity and comfort, but also an inexhaustible source of entertainment, thanks to powerful configurations, capable of running state-of-the-art video games or playing high-quality media content.
One such symbiosis between a high-performance work tool and an entertainment provider for all tastes is the new generation of ASUS Zen Book Duo laptops, which comes with a lot of improvements over the previous generation. The ASUS ZenBook Pro Duo 15 OLED model offers considerable computing power and, according to the name, images of impressive quality. So let's see what this laptop can offer.
The look instantly attracts attention, the chassis and cover of the ASUS ZenBook Pro Duo 15 OLED model being made of aluminium alloy with magnesium and an aluminium alloy that perfectly complements the Celestial Blue finish. The asymmetrical circles that are the ZenBook trademark give it a modern and sophisticated look. The laptop weighs only 2.4 kg and is 21.5 mm thick, making it 100 g lighter and 2.5 mm thinner than the ZenBook Pro Duo 15 UX581.
The secondary screen of the ZenBook Pro Duo 15 OLED has the unique Active Aerodynamic System Plus (AAS +). Thus, it integrates the touch screen in the cooling system. As the laptop opens, the secondary screen rises to an angle of 9.5 degrees, and the brightness that has reached 400 nits on the ScreenPad Plus helps prevent reflections from the screen for better visibility, opening at the same time a massive intake for a 36 % higher airflow.
ZenBook Pro Duo 15 OLED is equipped with processors that go up to the Intel Core i9, and the highest configuration offers up to 8 cores and up to 16 threads, as well as a 5.3 GHz boost frequency and 16 MB of cache for better multitasking performance. Each model also supports up to 32 GB of DDR4 RAM at 2,933 MHz and a PCIe 3.0 drive up to 1 TB, NVMe SSD, as well as Thunderbolt 3, HDMI 1.4 and USB 3.2 Gen 2 Type-A ports, along with a 3.5mm audio port.
ASUS ZenBook Pro Duo 15 OLED has a 92 Wh battery with a stacked two-layer design, increasing capacity by 29.5% for up to 6.2 hours, which is a 22% improvement over the ZenBook Pro Duo UX581. The new thermal design includes two very efficient fans, each with 97 blades, compared to the previous generation which had only 71 blades.
When it stops working, many users close the laptop cover or adjust it to a small angle to prevent others from seeing what is on their screen. Two G sensors mounted on the cover and the motherboard can detect the opening angle of the laptop. When it is less than 80 °, it will automatically reduce the CPU power consumption and increase battery life.
The ingenious ScreenPad Plus secondary screen has a new Control Center interface, which is now much faster. We also can customize the buttons on the new taskbar.
The audio system of the new ZenBook Pro Duo 15 OLED has been carefully tuned by experts from ASUS Golden Ear and certified by Harman Kardon audio specialists to ensure the best sound for all types of content. The sound has a louder volume, as well as richer depth and surround effects. The dual speakers are powered by a smart two-channel amplifier.
For business travellers, remote conferencing has become a way of life. In this case, voice quality is crucial for communication efficiency and clarity, which is why the new ZenBook Pro Duo 15 OLED is equipped with the ASUS AI Noise-Canceling Audio feature that ensures that users can hear and be heard clearly in any scenario.